MyMobileLyfe Hires Manny Johnson as Editorial Content Director
ALPHARETTA, Ga. – Immanuel "Manny" Johnson has joined MyMobileLyfe to help lead the company's content expansion efforts across its various digital media platforms: Atlanta Tech Blogs, Atlanta Tech News, and the soon-to-be-launched Tech Talent Talk Podcast.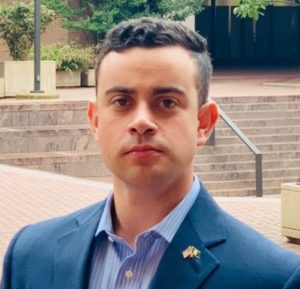 Johnson has a decade of experience as a leader, public affairs professional, and renowned journalist with Stars and Stripes.
Recognizing the impact of the technology industry in its home state of Georgia and across the nation, MyMobileLyfe has developed its digital media platforms with a focus on the unique experiences and challenges faced by members of the tech workforce.
"We are very excited to have Manny join our team and look forward to him writing great stories that connect IT employees, employers, and the ever-changing technology landscape," MyMobileLyfe's Chief Operating Officer Michael L. Grillo said.
Grillo and MyMobileLyfe's President & CEO Rick Hancock created the company following their lengthy careers in journalism. They have a deep appreciation for the power of storytelling, which influences MyMobileLyfe's work in marketing as well as its recruiting operations.
Please send story ideas to Manny at: manny@mymobilelyfe.com.
###
About MyMobileLyfe
MyMobileLyfe was founded by journalists who are experts in the social media and mobile landscape. Initially launched as a digital marketing agency in Metro Atlanta, MyMobileLyfe has evolved into an international digital communications company that offers IT staffing and recruiting, web development, advertising, public relations, in-person and virtual events planning, and marketing automation tools to help businesses of all sizes thrive in today's mobile world. Visit mymobilelyfe.com to learn more about the company.
About Atlanta Tech Blogs
Atlanta Tech Blogs, acquired by MyMobileLyfe in 2019, curates, aggregates, and promotes the stories of Atlanta's technology businesses. Firmly embedded in the region's tech culture, this website displays news from hundreds of local feeds and shares it to nearly 20,000 readers across multiple digital channels. Go to atlantatechblogs.com to see the latest news from the region's tech community.
About Atlanta Tech News
Launched in 2019, Atlanta Tech News unites Atlanta companies and tech talent. By providing the latest tech headlines, in-depth features, technology job listings, and company profiles, Atlanta Tech News connects the region's top tech professionals with businesses seeking their talents. Visit atlantatech.news for more information.
About Tech Talent Talk
Tech Talent Talk, launched in 2022, is where technology professionals come to learn more about their industry, including trends and insights focusing on IT staffing and recruiting across the United States. Visit techtalenttalk.net to see our latest coverage.