Headline tips from a tabloid classic
The importance of an effective headline is key to content creation, especially when the content is created for the mobile device.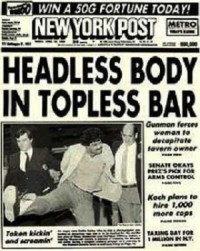 An effective, informative headline helps generate the desired content marketing results: attracting, engaging, informing and keeping the reader interested on the online article or blog post.
More readers mean more interest in the brand, and potentially more customers and exposure.
This 2012 post from Content Marketing Today offers some tips on effective content headline creation by drawing inspiration from this classic newspaper headline written three decades earlier.
To summarize, headline content must:
Be brief in the description.
Lure the reader into the story.
Don't give away too much of the story.
Be precise and descriptive with the words, without ambiguity.
Make it memorable.